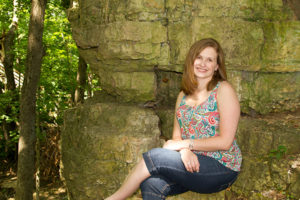 My name is Erin Harsevoort Byrne, owner of Dane Creative Designs.  I started in graphic design 10 years ago to help the nonprofit company I was with eliminate over-priced costs of a outside vendor.  In doing so I not only saved my company thousands of dollars, I found my passion in design.
Now you may ask, Erin, haven't you become the over-priced outside vendor?  My answer would be no.  I strive to create materials and provide services for my clients that are tailored for them and are in line with their budget.
My portfolio does not begin to show all of the work I have created over the years, but if you can print it or need a custom website or social media, I can help.
Flyers
Brochures
Logos
Business Cards
Holiday Cards
Annual Reports
Newsletters
Postcards
Powerpoint Presentations
Resume Writing
Invitations
Presentation Boards for Events
Promotional give away items
Event Planning
Social Media
Professional Photography with Tina Swanson
Website Design and Hosting with Petry Design – www.petrydesign.com
What my colleagues say…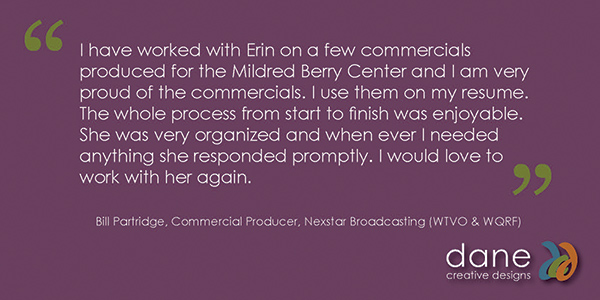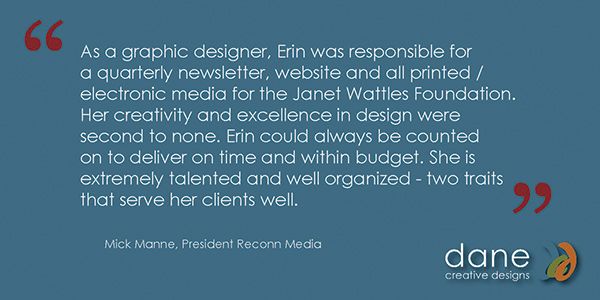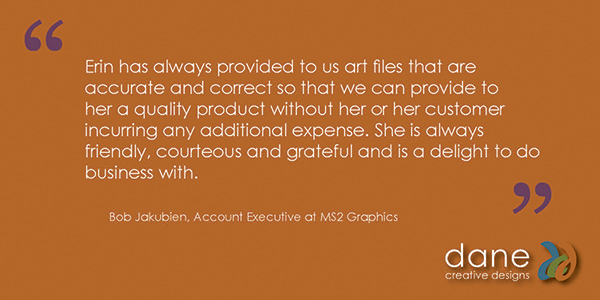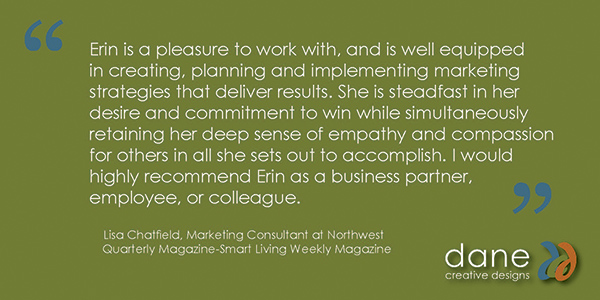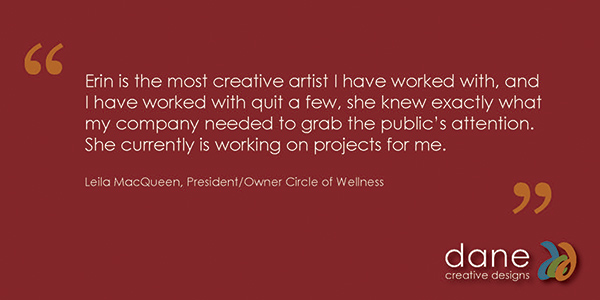 "Thank you for the opportunity to provide a recommendation for my professional colleague, Erin Harsevoot. As a long time employee of Janet Wattles Center, I had the privilege of observing Erin and her career path of progressive responsibility. Throughout her career, Erin has consistently demonstrated an outstanding ability to "get the job done". Erin interacts extremely well with Board members, staff, customers/consumers, and community leaders. Perhaps one of Erin's most admired characteristics is her level of dedication to any projects she assumes. She is totally committed to achieving the goals and objectives of the organization. Without a doubt, Erin always exhibits integrity, perseverance and professionalism – while continuing to be a champion for the underserved and disadvantaged populations. I highly recommend Erin Harsevoort"
Everett Peterson, Director of Operation and HR, Janet Wattles Center
"As a director of the Janet Wattles Foundation, I worked with Erin for several years. In her role as an administrative assistant to the Executive Director of the Janet Wattles Center, she provided organizational and reporting support to the Foundation and was a valuable resource for us. Erin is organized, has strong communication skills and is pleasant to work with." 
David Klintworth, Partner, McGladrey & Pullen LLP